No, this is not an abandoned blog. I know, I know. I haven't posted in a while. But I'm here now, and that makes it all better, right? Right? Hello?
Yesterday was my daughter's 8th birthday. Where has the time gone? And how is she getting older when I'm not? Anyway, my husband and I decided to buy her her first big girl bike for a present. So we took her to Target yesterday morning (by the way, bikes are on sale there this week) and picked out a bike for her. Since this is her first two-wheeler, we knew she'd need some training wheels, so we grabbed some of those, too. My daughter could hardly wait to get home to try out her new bike.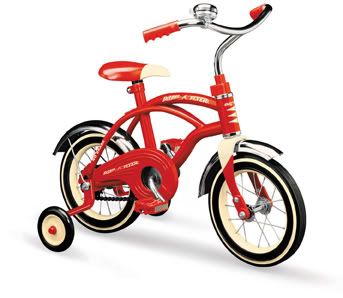 The bike came pre-assembled, which was really nice, but we had to put together the training wheels. How hard could that be? It says right on the box, "Assembly is a breeze." If by "breeze" they mean "tornado," then yes, assembly is a breeze. While the company that made the training wheels is an American company, the evil things were actually made in China. Apparently, the assembly directions were written in China, too. They had a picture of all the parts and were even kind enough to show parts that weren't even included with the kit. And the written directions made no sense at all. None. My husband and I spent a couple of hours trying to figure the darn things out, but nothing was working. So my husband checked YouTube to see if anyone had made a video about putting together training wheels. He finally got the training wheels attached, but even though the box claims that they fit the size of bike we bought, the wheels float about 3" or more above the ground. In case you were wondering, that doesn't work. It looks like the training wheels need training wheels. Apparently, me rocking in a corner while smacking my head and saying, "Find a happy place! Find a happy place!" wasn't working very well. So we're admitting defeat. My husband is taking the bike to a bike shop today to get some help. After experiencing this training wheel nightmare, I'm guessing the bike shop does a booming business installing training wheels.