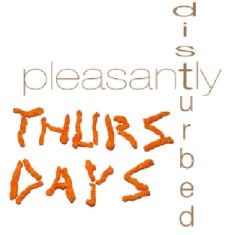 So Duane Scott has decided to bring back Pleasantly Disturbed Thursdays. Last night on the Twitter, he was pestering me to write something for it. Like I'm the poster child for Disturbed. Frankly, I think he's crazy. I'm perfectly normal. Perfectly. Normal. What could I possibly write about? Yeah, I've got nothin'. But I suppose I could humor him and wing it.
I've been sick for almost two weeks now with an evil virus. EVIL! Let me tell ya, it's been kickin' my butt. And really? One person should never have to contend with so much phlegm. Yes, I'm phlegmish.
I wonder if the Flemish are especially phlegmish. And do they appreciate being compared to phlegm?
Phlegm. It's one of those words that sounds exactly like what it is. Phlegm. Yeah, that's pretty disgusting. Know what else sounds like what it is? Bounce. Go on, say it. Bounce! Ooo! And boing! Boingy! Boingy! Boingy!
Aw man! That makes me think of Animaniacs. I loved that show. Especially Pinky and the Brain. Why did they have to go and cancel it?
I'll tell you why they cancelled it: Because the networks are out to get me. It's true. If there's a show that I love and I happen to mention it out loud, it's the kiss of death for the show. Clearly, the networks have spies tracking me closely. Wonderful shows get taken off after a season or two, yet shows like Alf go on forever? Really people? Alf?!
I think Costco is in cahoots with the networks, too. Probably splitting the bill for the spies. Hey, times are tough now. Costco lures you in with all those wonderful free samples. Gets you hooked on something completely yummy. Makes you dependent on it. Craving it. And when you go back to get more? BAM! It's gone. They've stopped selling it. Why Costco, why?! Oh yeah, I know why. They're out to get me.
Anyway, I'm sorry that I couldn't come up with anything for your little carnival, Duane. Maybe given time, I can come up with something. It'll be tough though, since I'm perfectly normal. And content. We all have our burdens to bear.