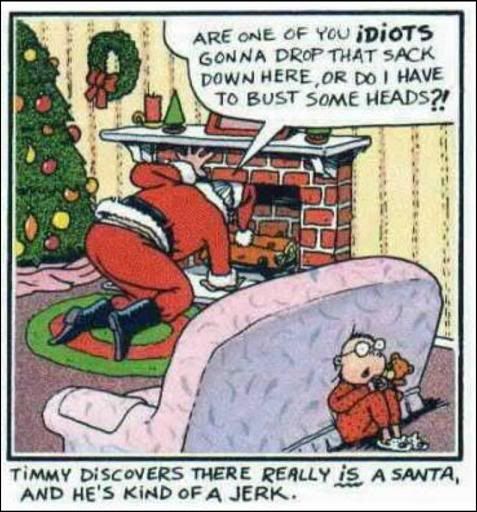 Okay, I WAS on the Twitter this week. I really was. The problem is, everyone else seemed to have better things to do. Just 'cause it's almost Christmas or something. Sheesh. On the upside, we have some new characters to add to the motley crew. Sorry/ you're welcome, new inductees.


The one-liners

People are like snowflakes. I hate shoveling them off my driveway. (RT @badbanana)

"This place (mailroom) reminds me of Santa's workshop, except it smells like mushrooms & everyone looks like they want to hurt me." - Elf (RT @katdish)

*ring ring* Buddy the elf, what's your favorite color?

ImAPennyPincher I want to win this ring ( http://tinyurl.com/2a773ug ) from @wendydarlingltd because it's better than a Red Rider BB gun. And leg lamp.

If anyone sees the cleaning fairies, can you please tell them that they're about 20 years late getting to my house? Thanks.



The ones that are a little bit longer

melissa_rae My children are currently being introduced to Animaniacs, thanks to Uncle Logan...I'm not sure how I feel about this...
weightwhat @melissa_rae I LOVE the Animaniacs! I wouldn't say that I've forced my daughter to watch it... Just ignore the rope on that chair by the tv.



katdish I love a good all occasion card http://plixi.com/p/63791461
weightwhat @katdish Nothing good can come from too much animal print and blue eye shadow.
katdish @weightwhat Except maybe a good b*tch slapping.

weightwhat Listening to the Barenaked Ladies version of "God Rest Ye Merry Gentlemen" - LOVE!!! Isn't Christmas music wonderful?
WinLiannefield @weightwhat You could hear me singing all the way from my shower?!? *Blushes*
weightwhat @WinLiannefield Uh, yeah. I'm sure that's what I heard...




The ones that are even longer

buzzbyannies @katdish It's 34 here. Everytime someone mentions global warming I want to punch Al Iinventedtheinternet Gore in the teeth.
weightwhat @buzzbyannies Global warming!
weightwhat @buzzbyannies Did you punch him again?
buzzbyannies @weightwhat Twice.



okiewife The sun is shining, on my 2nd cup of coffee, Bible study done, hmmm...ready for the twitterverse. Bring it on.
weightwhat @okiewife GAAAA!!! I'm still on my first cup of coffee. Of course, it's more of a bucket than a cup...
okiewife @weightwhat Now on my 3rd cup, but not bucket sized! More like pint jar sized. Gettin' a twitch in left eye-lid. Should I quit after this?
weightwhat @okiewife You don't want to be known as a quitter, do you?



weightwhat Good morning!
fishythoughts @weightwhat - Good evening
weightwhat @fishythoughts You're just so ahead of your time!
fishythoughts @weightwhat - Would you like to know what the lottery numbers were?
weightwhat @fishythoughts Of course I do, but then again, I wouldn't want you to use your powers for evil.



SBeeCreations Newest list I've been added to: Vajazzle (heeheeheeeee)
weightwhat @SBeeCreations Is it just me, or does that sound naughty?
SBeeCreations @weightwhat totally naughty, lol
weightwhat @SBeeCreations Has someone been busy bedazzling?



The ones about the eclipse

weightwhat Anyone staying up to watch the eclipse tonight?
weightwhat I can't believe the clouds cleared enough to see the moon! The kiddo's report: It's getting towards half!
weightwhat And the clouds are back. Lovely.
weightwhat 5 minutes until the eclipse is total!
weightwhat And now it's raining. So glad I stayed up to not see the eclipse.
vvdenman Lunar eclipse last night anyone? Ain't God cool?
weightwhat @vvdenman Why don't you just give me a papercut and throw some lemon juice on it?



And the 'why don't you just post the whole conversation' ones

weightwhat Is everyone hiding this morning?
kelybreez @weightwhat I haven't figured out how to hide a morning yet. Sometimes I hide my kids' toothbrushes & underwear, just to be so funny.
weightwhat @kelybreez Do you sometimes freeze your kids socks, too?
makeadiff21 @weightwhat Oooo. That sounds fun...
weightwhat @makeadiff21 It confuses them greatly. So I hear.
makeadiff21 @weightwhat Ya. I'm sure you wouldn't know anything about it...


And now, for the "Top Ten Politically Correct Christmas Carols" (stolen from MSN greetings)...
10. O Holiday Tree
9. Have Yourself a Merry Little Day of Winter
8. Frosty the Snowperson
7. Chestnuts Roasting on a Safely Contained, Continuously Monitored, Eco-friendly, Non-toxic Outdoor Fire (For Which I Have a Permit)
6. Higher Power Rest Ye Merry Gentlemen
5. Grandma Allegedly Got Run Over By an Unidentified Non-human Perpetrator
4. Deck the Halls With Boughs of Unendangered Foliage (If Office Policy Permits)
3. Hark! The Herald Mythical Winged Creature Sings
2. I Saw Mommy Greeting Santa Claus with a Purely Platonic Expression of Inoffensive Mutual Affection
1. I'll Be Home for a Short Period of Time in December
Merry Christmas everyone! I hope you all have a wonderful day surrounded by the ones you love!