Okay folks, you're in for a bit of a bumpy ride with today's post. Yup, you're going to have some extra reading to do on other blogs in order to be up to speed. You'll need back story. But stay with me, because I'm in hot pursuit of an Honorary Man Card (from here on to be called HMC).
It all started with Katdish's constant bragging about having her own HMC. Oh yeah, she just waves it around and taunts people with it. It's just not right. Which is exactly why I want an HMC, too. I need to be able to taunt and lord over people.
Did you know that I also write on another blog? If not, where have you been? Anyway, over at Fellowship of the Traveling Smarty Pants I wrote a blog post about my longing for an HMC. You'll want to read that post here.
And now, Bryan Allain has written a guest post over at Hey Look, a Chicken! about the revoking of his Man Card. Yes, you'll want to read that link, too. With him clearly giving up his rights to a Man Card, I think I should be the one who gets to step in and take it, even if it is temporarily.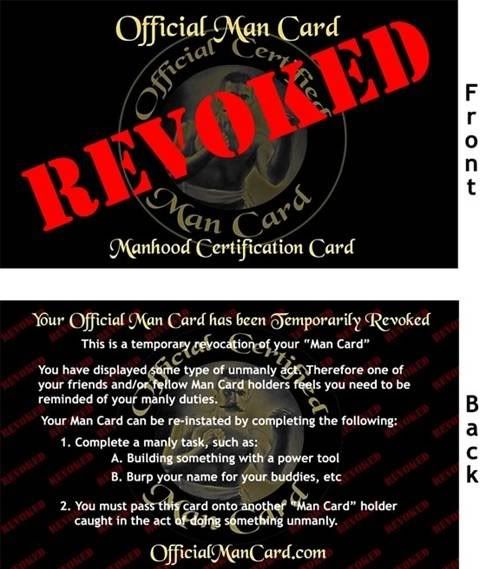 Although I feel that I gave good enough reasons in my post over at Traveling Smarty Pants for deserving an HMC, some of you may not be convinced. So for your further consideration, I submit the following:
Back in the day, I went to a junior high that consisted of 7th through 9th grades. I was in 9th grade at the time of the incident. That year at school, there were two guys, "B" and "C", that were the class tough guys. They were big. They were mean. One time, the two of them got into a fight in the quad and to this day, I still have no idea how they were able to clean up all the blood. No one messed with these guys. Well, almost no one. "B" decided that it would be fun to start picking on my boyfriend. I'd hear stories about it and it did not make me happy. Then one day, "B" decided to pick on my boyfriend right in front of me.
Bad. Choice.
I got between the two of them and started yelling up at "B", who had a good 6" on me. I pushed him. I dared him to hit me. I warned him that if he did hit me, he'd better be ready because I'd be hitting him back.
I didn't get hit that day, in case you're wondering.
But I did successfully freak "B" out enough that he never bothered my boyfriend again. And "B" was never able to look me in the eye after that day...
So there you have it. My latest submission in my quest for an HMC. Oh yes, it will be mine...
Now how about checking out the Life is Funny blog carnival? I promise not to punch you if you do.