Howdy folks! It's time for the Life is Funny blog carnival. Got yer funny ready?
This week I went in the Way Back Machine and pulled out this classic email from back in the day. Well, it's a classic in my book anyway...
Saturday, I had a near death experience that has changed me forever. I went horseback riding. Everything was going fine until the horse starts bouncing out of control. I tried with all my might to hang on, but was thrown off. Just when things could not possibly get worse, my foot gets caught in the stirrup. When this happened, I fell head first to the ground. My head continued to bounce harder as the horse did not stop or even slow down. Just as I was giving up hope and losing consciousness the Walmart manager came and unplugged it.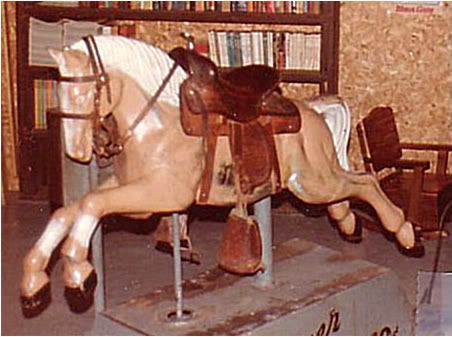 Now it's your turn. Ready to play? Here's what you do.



1. Anytime this week, blog about what in life you find funny. It could be something that happened during the week, your general impression about why life is funny, or even just your favorite joke. Be creative!


2. Please put a link to my blog in your post. And I'd appreciate it if you'd add my carnival button (made for me by Andie - thanks so much Andie!) to your post. To make this easy, I've put the code to do so under my blog button on my sidebar to the right.


3. After you've posted, come back here and sign up on Mr. Linky below. For the first box, put your name and your blog (example: Wendy @ Weight...What?), then your URL in the second box. Make sure you link directly to your "Life is Funny" post (not to your main page) so we can all read what you have to say.


4. Visit all the other participants and see what they have to say, even if you don't have a blog of your own. And very important: Comment, comment, comment! Oh, how we love getting comments...


5. If you Twitter, please tweet about this - the more participants, the merrier! So go out and spread the laughter! I can't wait to see what everyone has to say!