Welcome to another edition of the Life is Funny blog carnival! Once again, this post comes with a warning. This should not be read by the faint of heart or easily offended. As a matter of fact, you should only read this if you're a 12 year old boy, or have leanings that way. There. You've been warned.
I wasn't going to write about the event that happened this week, but it's been a slow week around here. Let this be a lesson to all of you: Keep me entertained! It's for your own good! What could be so bad that I wouldn't write about it?


I was putting my daughter to bed the other night, and for some reason, there seemed to be a large accumulation of, um, natural gas building up. As I waited in her room, it grew into a gas giant, so to speak. Since she was in the bathroom brushing her teeth, I seized the moment and let the flatulence fly.


Repeatedly.
Don't judge me.
When my daughter returned to her room, she made a horrible face and started making gagging noises. Which, of course, brought out the 12 year old boy in me. And there was more breaking of wind, to which my daughter yelled, "GAAAA!!! Mommy!" Unfortunately for her, the tank was not yet empty.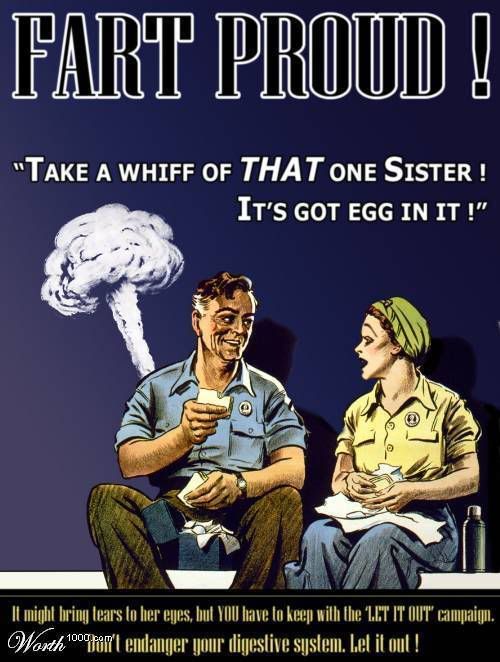 Yes, the vapors continued the entire time I was putting her to bed. And so did my daughter's shrieks. I don't think she appreciated the musical serenade I was giving her... But I was laughing so hard I was crying. I just couldn't stop myself! Of course, I had to leave her with more right before I closed her bedroom door. It's the gift that keeps on giving!
As I walked back downstairs, laughing hysterically and listening to the sounds of my daughter gagging for breath, I thought to myself, "Yup, givin' the kiddo some fine childhood memories here." Good times.
Okay, now it's your turn to share. C'mon, you know you've got a Life is Funny post in you somewhere. Let it out! And don't forget to sign up with Mr. Linky below. Just don't pull his finger. Trust me on this one.