So boys and girls, what did you learn this week? Find out what others had to say over at Musings of a Housewife.
This week I learned a few things about my dog, Gidget.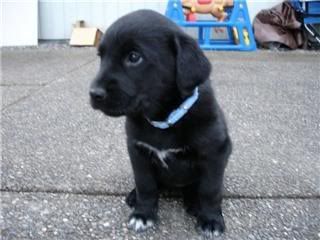 She was a pretty cute puppy, wasn't she? Anyway, someone has taught her how to type. And use a computer. And set up a Twitter account. Yes, my dog is on Twitter. Want to check it out? She's CrazyGidgetDog. I'm not quite sure how she does it since I've never caught her in the act. But really, how does a dog type when they don't even have thumbs?
She just signed up a couple of days ago, but she's already got friends there. How? I mean, sure, she looks pretty cute in her puppy picture... I'm sure she's going for the cute angle here... But I think she might be more popular than me! Do I need to up my cute factor?
Gidget is sitting here looking at me right now. Is she waiting for her turn on the computer? Or is she waiting to read what I've written here so she can talk about it on Twitter?
Oh, I'm on to you, dog...
Need more funny in your life? Got some funny to share? C'mon over to my blog carnival, Life is Funny, and join in! You'll be glad you did.