Hi boys and girls. It's time for another round of "Life is Funny." Can you say, "Life is Funny?" I knew you could.
Don't ever send your husband to the grocery store for a specific item. Why? Because you won't get it. Trust me on this one. I think that they must have all attended some kind of special class that we as women, until now, didn't know about. In this class, they were taught ways to avoid ever getting asked to do anything by their spouse. I have a sneaking suspicion that some men even went on for their masters and doctorate in the subject.
Case in point. My husband. He's an educated man. He can even tie his own shoelaces. But what he can't do is find butter at the grocery store. Butter. Yes, one day I asked him if he could run and get me some butter for something that I was baking. I gave specific instructions not to get margarine - it had to be butter. And, surprise surprise, what did he bring back? Margarine. He told me that the grocery store didn't have butter. Isn't that amazing? A store without butter! So I had to make a trip to the store. And do you know the crazy thing? They had butter! Lots of it. To this day, he insists that there was no butter there when he was there. Clearly they were holding out on him, just waiting for him to leave before stocking the butter section in order for me to find a plethora of butter when I went in.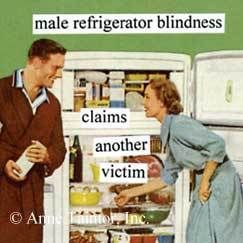 Oh, those silly grocers. Don't they make life funny?
Ready to play? Here's what you do.

1. Anytime this week, blog about what in life you find funny. It could be something that happened during the week, your general impression about why life is funny, or even just your favorite joke. Be creative!

2. Please put a link to my blog in your post. And I'd appreciate it if you'd add my carnival button (made for me by Andie - thanks so much Andie!) to your post. To make this easy, I've put the code to do so under my blog button on my sidebar to the right.

3. After you've posted, come back here and sign up on Mr. Linky below. For the first box, put your name and your blog (example: Wendy @ Weight...What?), then your URL in the second box. Make sure you link directly to your "Life is Funny" post (not to your main page) so we can all read what you have to say.

4. Visit all the other participants and see what they have to say, even if you don't have a blog of your own. And very important: Comment, comment, comment! Oh, how we love getting comments...

5. If you Twitter, please tweet about this - the more participants, the merrier! So go out and spread the laughter! I can't wait to see what everyone has to say!