It's (almost) Fingerprint Friday over at my bloggy friend's spot on the interwebs - The Rusted Chain (formerly known as PamperingBeki). Still with me? Okay, here we go...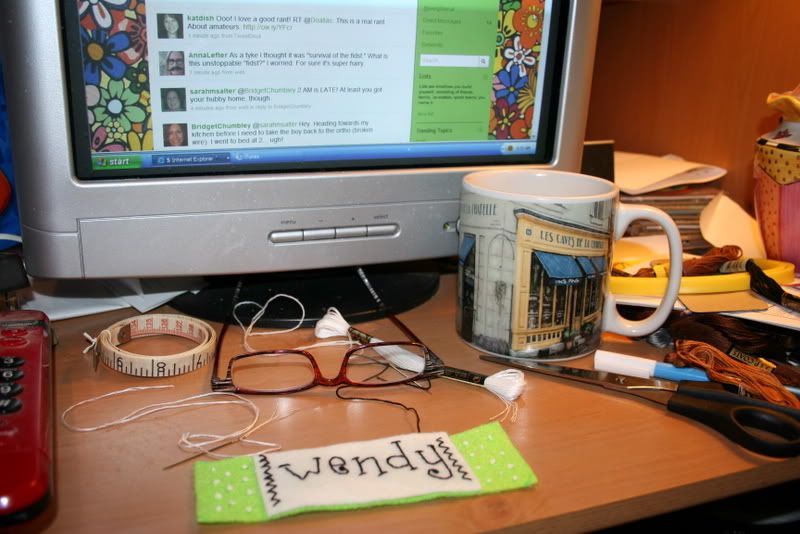 What? This doesn't look like God's fingerprints to you? Let me 'splain. We'll go from the top down. First, it's twitter. And hey, let's not be knocking the twitter now, huh? It's been a gift from God for me. It's been my connection to the outside world and the source of many friends who have prayed for me and my family in out times of need.
Next, if you look at my twitter page, the third person down is @sarahmsalter. God has given me the opportunity to help out my friend, Sarah, as she tries to raise money for a mission trip to Sudan (see Tuesday's post for more on that). Being able to help a friend is a blessing, indeed!
Moving downward, we see my giant coffee cup. Coffee. 'Nuff said.
Okay, the new glasses I'm not too thrilled about. Stupid age creeping up on me. But at least I have glasses to help me see.
And lastly, my embroidery stuff for my new etsy page. God gave me a creative spirit and nudged me in a direction in which to use it.
So, you see, God's fingerprints are all over this photo. That and it shows me that I really need to clean up my desk. ;o)