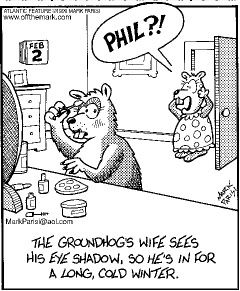 Well kids, looks like Punxsutawney Phil saw his shadow this morning. You wanted 6 more weeks of winter, didn't you? As for me, I'm still waiting for winter to show up here. But since I know that some of you have had a tough winter already, I figured I'd give you some ideas on how to keep yourself warm for the next 6 weeks.
Groundhog slippers - A must for anybody with feet. Not only do they keep your feet warm, it's like one swift kick up the backside of the animal that is the cause of your weather-related problems.
The groundhog beanie cap - Nothing says warm and cozy like the wide-eyed stare of a dead groundhog on your head.
Mocking the groundhog - Hey, it always warms the heart to mock, right?
If those things fail to keep you warm and toasty, I have one more suggestion for you. Recipes. For groundhog. Tastes just like chicken. And it'll be a warning to all the other groundhogs out there who dare to stick their head out of their home and make predictions we don't like. Hmmm... I wonder what a good side dish would be to go with Waco Groundhog in Sour Cream...