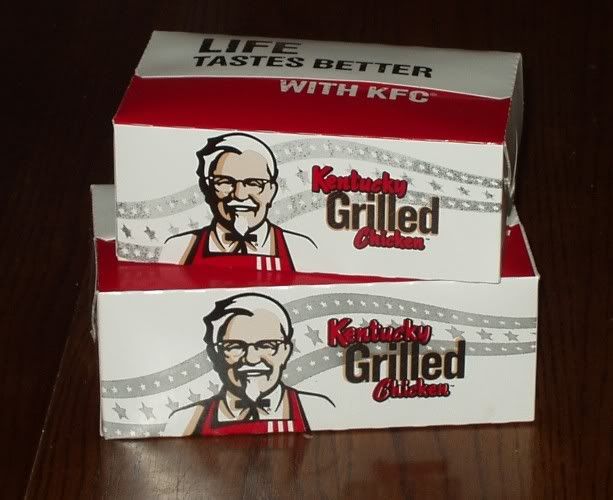 Oddly enough, this is not my first post about KFC. You can see my first here - and make sure you check out the video clip because it's a classic! But now I feel the need to post about the Colonel's chicken once again. Why? Because of the whole free chicken coupon fiasco going on right now.
Let me just get this out there right now for those who were turned away, coupon in hand, from KFC - you didn't miss out on anything. Unless you like greasy, flavorless chicken. How do they make grilled chicken so greasy? I just don't know. I'm guessing it must be a trade secret.
But my story doesn't end here. I feel that I must send out a warning to others. You see, my family got in to KFC before they pulled the plug on the free deal. We waited, and waited, and waited for the free chicken. The line was out the door almost the entire time we were there. I heard the employees keep calling back for more grilled chicken. Yes, offer free chicken and the people will come. When we finally got our chicken and began to eat (remember, I already told you that it was disgusting), I continued to watch the line. Always to the door. People just kept coming.
But then I looked up, and the line was almost gone. I hadn't heard them calling back for more grilled chicken in a while.
My husband and I were forced to come to our own conclusion about what had happened there that night. This is what we came up with: They made a second line. A line that went straight back to the kitchen. There was a reason that they stopped calling back for more and that the line had dissappeared. Soilent Green KFC is people! Yes, there was a reason that they were able to give the "chicken" away for free. I'm guessing that's also the reason they had to stop.
Okay, we're probably wrong about that. But the chicken was still disgusting.