Once again, it's time for the Life is Funny blog carnival! Woo-hoo! Feel free to join in and sign up with Mr. Linky below. Mr. Linky loves the attention.
Last week I started the tale of the Charlie Brown Christmas tree. If you haven't read it, go on back now and take a peek. We'll wait.
Done yet? No?
How about now?
Now?
Finally. So, the covert decorating operation continued. We added bell garland and snowflake ornaments.

We ran into a little trouble when we tried to hang the snowflakes - the hanging loops weren't so much loops as knotted up pieces of glitter-covered string that wasn't about to hang on anything. My daughter was trying to just lay the snowflakes on the branches when I had to stop her by yelling, "AAAAAA!!! Abort mission! Abort mission!" Then there was much running around and craziness comparable to modern day Keystone Cops. Good times.
After adding new loops to the snowflakes, those were put on again. A few days later we added plastic candy canes.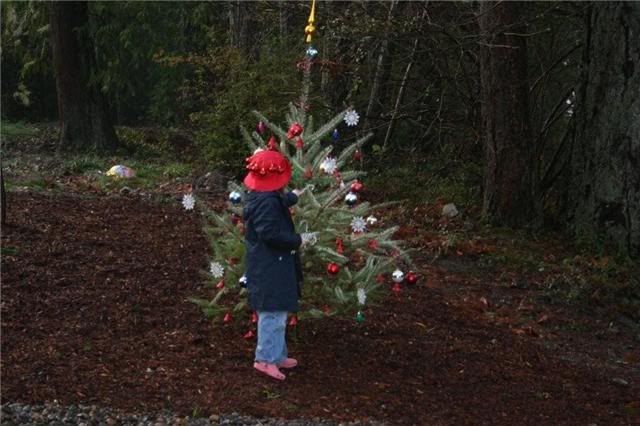 Isn't my daughter's hat lovely? I put it together for crazy hat day at school. Anyway, back to the tree. We had a good amount of wind here one day, and as I drove by the tree, I saw that some of the decorations had fallen down. Not wanting to stop and fix it in the middle of the day, I drove on by. The next morning when we went to fix it, someone else had beaten us to it! I have no idea who joined us in our little tree caper, but found it funny that someone else has gotten involved now.
It looks like our tree adventures are done for the year now. Why? Because I'm out of ornaments. It's tempting to go out and get more, but I don't know that my wallet or the little tree could handle much more right now. It sure has been fun though! I hope my daughter keeps this as a fun memory. I think she's had a good time being a sneaky little elf.

Okay, as promised, now it's your turn!
Go on. You know you want to join in. It'll be fun!