I guess I'm on a bit of a farm animal kick these days. It was chickens the other day, today is more of a cow kind of day. Who can resist a cow story? Okay, that and I found lots of fun cow goodies to add on to my post. :o)
When I was 11, my grandpa took me to Scotland. I had about a gazillion relatives there and we got to visit all of them. My favorite part of the trip was when we stayed a week with my great-aunt and uncle in the Scottish Highlands. I had so much fun with them and they spoiled me rotten. Who wouldn't like that? Anyway, we went out for a drive one day in the gorgeous Highlands and my great-uncle decided to pull up next to a fence that was keeping cows penned in. He then proceeded to roll down the car window and turn up the radio.
And the cows came. They came up and tried to stick their heads into the car.
He turned the radio off, and away they went.
He turned the radio back on again, and guess what? Yup, back they came.
Those cows loved music! Okay, the farmer probably called them to eat by playing music. But still, it was pretty darn funny! Here it is, 30 years later, and I still want to roll down the windows and turn up the radio whenever I see cows.
And just for good measure (and for a reason to add more cow comics), I have a couple more little cow tidbits.
I used to collect cow stuff. And I don't mean just a little bit of it. I even had large cow spot magnets all over my white refrigerator. The thing is, I never bought a single cow thing for myself. People just kept giving me cow stuff, so everyone else thought I must be collecting it. It was never my intention to become the local cow museum, but I seemed to have been pushed into it. And before anyone gets the idea to send me more cow stuff, please don't. I've managed to get rid of all but one cow item. Now, if you want to send me chocolate, who am I to stop you?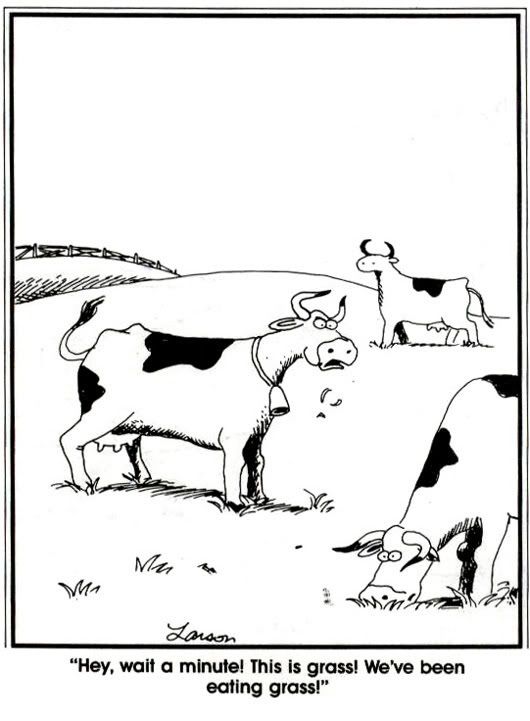 Okay, last cow related item. When I was young, my mom went with my sister's class to a dairy farm for a school field trip. Sounds pretty harmless, huh? Not exactly. My mom caught some kind of weird cow disease and came home and passed it to me. Yes, I had a cow disease. No, it wasn't mad cow disease. But how many people can say they've had that happen to them? I've had an odd life at times.
Wow, I just realized I lied. I still have one more cow thought. Well, not as much a thought as that it's on my list. You know, the kind of list you make of things that you want to do someday? On my list is "milk a cow." Yes, I'm an odd one. But hey, everyone's gotta have a dream.