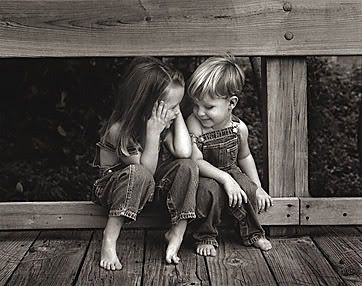 Do you remember your first love? I sure do. I even remember what I thought was my first love, but all he wanted to do was sneak me out to the garage to kiss me. He was cute and I gave in. Yup, I was an easy 4 year old. My real first love came in kindergarten. Bobby... He was dreamy...
My first day of kindergarten, I was distraught. I had never been to preschool, so I wasn't used to my mom leaving me somewhere that wasn't Grandma's house. My mom walked me to school that day and said her goodbyes, me in tears. As my mom made the long walk away, I was inside the fence following along and crying for her not to leave me. Unfortunately for her, the kindergarten yard was very long, so there was a lot of weeping for her to walk away from. When I reached the end of the fence, I stood there, inconsolable, wondering why she would just leave me like that. Suddenly, Bobby was there with his arm around me. He said, "Don't worry, I'll take care of you." That was it - I was smitten. And he did take care of me. All throughout kindergarten Bobby was there for me. What a guy...
My daughter had her "Bobby" last year in kindergarten. I'd hear stories about how he'd take her to the office when she was sick and would stay with her to take care of her. I'd mention his name to her and she'd get this little grin on her face or start giggling. It was pretty darn cute. I found out from the sweetheart's mom that the two of them had to be separated in class quite a few times because they wanted to hug each other all the time. I know some parents might get upset about something like this, but I'm not one of those parents. I have wonderful memories of times like that for me. I hope that my daughter remembers her first love. Every girl should have a "Bobby" at some time in her life.
So, who was your first love?