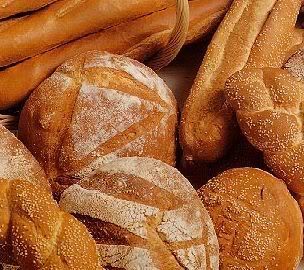 I made homemade bread for the first time tonight. Nope, no breadmaker used this time! Don't get me wrong, I love my breadmaker. I also love all the yummy bread mixes out there. But I've had a hankering to make bread all on my own. Then, the other day, I found an article about making No-Knead Bread. It said that a 4 year old could make that recipe, so I figured hey, I could do it!
Hmmm... It looks like I might still be 3.
It started out simply enough. Just mix flour, salt, yeast and water, then let it sit until the next day. Yes, I can mix with the best of them. The problems started today, after the sitting period was over. Today I was supposed to put it on a floured surface and fold it over a couple of times. My dough was so wet that it was sticking to everything. I sprinkled more flour on. Then a bit more. Okay, one more time with the flour. It still wasn't looking right, but I went with it anyway. It had to sit and rest again before I shaped it into a ball on a floured dish towel. There was no shaping this dough. It was more like pouring it onto the dish towel. It still had to rise for another 2 hours after that, so I was hoping that it might magically change it's form into something that actually resembled bread dough. Nope. But I'm a trooper and I pressed on. I tried to dump the dough into the baking dish, but it didn't so much dump. I tried to scrape it off the dish towel and although I did get quite a bit off, I think that dish towel has seen it's last day. So then into the oven it went. The wait was on...
Now mind you, this was a long process, so it gave me plenty of time to complain about how it just wasn't working. I think my husband was starting to fear my bread. But if I've spent the last 24 hours trying to make a loaf of bread, you'd better believe we were going to eat it.
The time came to take it out. Hmmm...It looked pretty good. Rustic, but good. It smelled really good, too. It even sounded good when I cut it. My daughter was the guinea pig first to try it. She gave it a thumbs up, so I gave it a try. Hey! It was fantastic! Even though it looked like a total disaster throughout the process, the end was better than anything that's come out of my breadmaker. My husband couldn't figure out why it tasted so good. Um, thanks honey. It's because of my mad baking skills, of course! Okay, maybe because it really is a fool-proof recipe.
Don't forget to enter my giveaway in yesterday's post! Mmm... Chocolate...