Here is yet another installment of "What Should Wendy Write About" brought to you by MoonGoddess. In case you missed it, I put out an offer on this post. If you want, you can still make requests there. But back to MoonGoddess' request. She writes: "Maybe talk about 5 things you would change in life if you were granted 5 wishes - nope you can't ask for more wishes!" Okay, your wish is granted!
What would I wish for? Would you like my Miss America answer? I wish for world peace. Oh, that's so not me... World domination, maybe...
But if I was being serious, I'd wish for a cure for Juvenile Diabetes. I hate that my daughter has it and there's nothing I can do to make it go away.
Of course, I'm not going to be serious. What fun would that be? So here is my list in no particular order:
1. I wish that the better a food tasted, the fewer calories it would have and the better it would be for you. I could be the healthiest person on the planet if that was the case. Now bring me some chocolate!
2. I wish that I could reach that spot on my back that always itches, but I can't quite get to. Either that, or someone to follow me around all day in case I need a good back scratch.
3. While we're on the topic of my back, I wish I could have a massage therapist at my beck and call. Oh yeah, I know how to wish...
4. I wish that my house was self-cleaning and that my garden would magically grow anything I wanted without me lifting a finger. No, I'm not a domestic goddess. I don't like to clean and I kill pretty much every plant I put into the ground.
5. Are you sure I can't wish for more wishes? Hmm... Gotta make this a good one then. I wish that I had an endless supply of fun blog topics so I'd never have to sit at the computer trying to figure out what to write.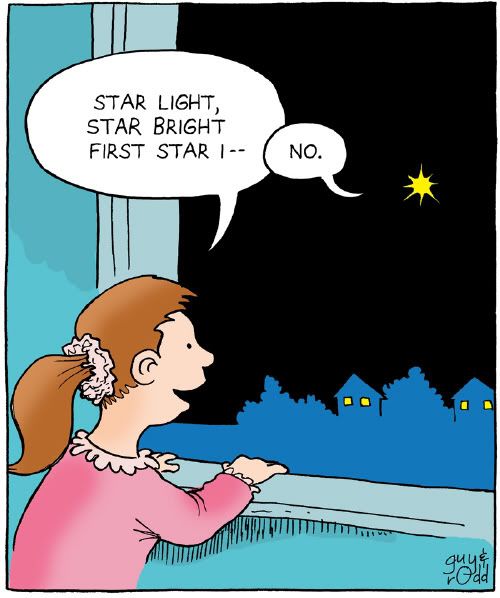 But truth be told, I'd turn all those wishes in for the cure wish.
If I had six wishes, I'd wish that everyone would join in on my blog carnival. C'mon, make a girl's wish come true!