I'm about to share something with you all. I have a love for things that are tacky and cheesy. I'll go on factory tours that would make most people just roll their eyes. If I could find one, I probably would put a hula dancer on my dashboard. I have a purse that's made from half a coconut. The list goes on and on. But my great love is for tacky postcards.
It all started back in college when I got "The World's Tackiest Postcards" and "Revenge of the Son of the World's Tackiest Postcards" (Klutz Press, now out of print). They were books of real postcards that you could tear out and mail, and boy were they tacky! Here's an example of one: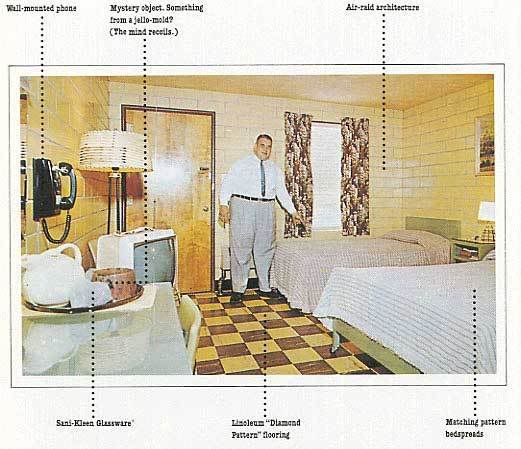 Of course, I did pull some out and mail them. But then I missed them so much that I had to go and re-buy the books so I'd still have them all. I started checking out postcard racks wherever I went in the hopes of finding something truly tacky. I found one once that was a guy standing next to an open coffin, modeling it. Ah, those were the days when you could just walk into a store and find a tacky postcard. It's much more difficult these days. I find plenty that are just in bad taste, but that hardly qualifies as something truly tacky. I need cheesetastic!
I once made a postcard for my sister and sent it to her. What did I make it out of? One side of a tampon box. It had lovely flowers on it. I don't know why she wasn't as amused by it as I was.
Friends used to send me the tacky postcards that they were able to find, too. One of my old roommates was on England semester one year and sent me a couple of interesting ones. The innocent should avert their eyes about now. Ready? They were boob postcards that had faces painted on them. One of them had the caption: "We're a couple of swells in London." Oh, and she sent them to me at my parent's house. Ah, priceless. Thanks Prancer!
I went looking for my postcard books today, but I couldn't find them anywhere. Yes, I'm distraught. I could really use a tacky postcard fix. My friends don't send them to me anymore (probably because they're so hard to find these days) and my mailbox is lonely for them. So if you see any postcards that are truly tacky and wonderful, please feel free to send them to me. I'll love you forever!