It's my blogoversary today! Where are my presents? What? There are no presents? What about the plethora of piñatas I was hoping for? Really? Nothing? Hmph. I see how you are...
For today's fabulous blogoversary extravaganza, I've decided to do a "best of" of sorts. Plus a bit extra. Yes, I've searched my blog to find my 3.5 fan's (the .5 fan is kinda wishy-washy) favorites and post 'em again. Why? Because I couldn't come up with anything more original. So, for your viewing annoyment enjoyment, I present the following...
Best new invention
Best clip art

Best video (it's a two-way tie)
Best post (it's from my "Life is Funny" blog carnival)
"A Little Extra Effort"
The following story is not mine. But it sure seems like something I'd do.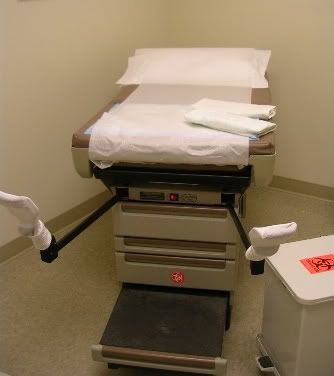 I was due later that week for an appointment with the gynecologist when early one morning I received a call from his office. I had been re-scheduled for early that morning at 9:30 am. I had just packed everyone off to school and it was 8:45 a.m. already. The trip to his office usually took about 35 minutes so I didn't have any time to spare.
As most women do, I'm sure, I like to take a little extra effort over hygiene when making such visits, but this time I wasn't going to be able to make the full effort. I rushed upstairs, threw off my dressing gown, wet the washcloth and gave myself a wash in "that area" in front of the sink, taking extra care to make sure I was presentable. I threw the washcloth in the clothes basket, donned some clothes, hopped in the car and raced to my appointment.
I was in the waiting room only a few minutes when he called me in. Knowing the procedure, as most of us do, I hopped on the table, looked over at the other side of the room and pretended I was in Hawaii or some other place a million miles away from here. I was a little surprised when he said, "My... we have taken a little extra effort this morning, haven't we?" But I didn't respond. The appointment was over. I heaved a sigh of relief and went home.
The rest of the day went normally - some shopping, cleaning, and the evening meal, etc. At 8:30 that evening, my 14-year old daughter was getting ready to go to a school dance when she called down from the bathroom, "Mom, where's my washcloth?" I called back for her to get another one from the cabinet. She called back "No! I need the one that was here by the sink. It had all my glitter and sparkles in it!"
And for a little bit extra..."You googled what to get here?"
something funny that everyone needs
- Well, of course that would lead to my blog. Where else would it go?
today is what i need to deal with tomorrow is something else
- Yes, but what IS tomorrow exactly?
I've gotta get out of here
- Take me with you!
earn your mancard back
- But you can't have mine. I've had it bronzed.
kosher bra
- Yes, but would it be considered meat or dairy? Yup, could go both ways. See the conundrum?
nude dietitians
- Wow. Really?
jesus turban
- It wasn't a turban, it was a
Turbie Twist

®
. Dries your hair faster.
"snot rash"
- How to get it or get rid of it?
ooo a sparkly!
- Yes, my blog is very twinkly, very sparkly. Like a holiday.
"I peed my" wet pants
- I did not! At least, not this week anyway.
no no bad dog
-
Gidget
! This one's for you!
what gives great happened you r life
- Huh?
anti raisinite
- Wow, it's like they know me...
I think that's enough for now. I wouldn't want to overwhelm you with too much fabulousness. No, no. No applause. Just throw money.