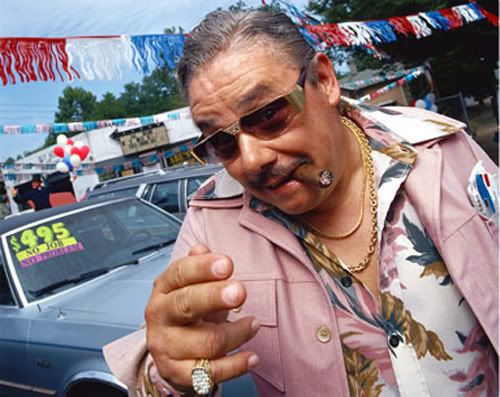 We went car shopping tonight! Isn't that fun? And root canals, aren't they great, too?
Yes, we decided it just wasn't worth it to fix my husband's 14 year old car anymore. We're donating it to charity which means we needed a newer car. You know, something only around 11 years old. Okay, not really. We got a used '08 - not bad, huh?
But the car shopping... Ugh.
We drove to a lot that was about an hour away because my husband found a car online that he liked. We arrived, pre-approved check from the bank in hand, ready to get going. How long could it possibly take? Sigh...
It started with a salesman who couldn't believe that we didn't want to just hand over the asking price. Really? Like this has never happened before? Of course, this meant he had to call in for backup. Gotta have the manager come tell us what a great deal it already is, too.
Thank you, we'll keep looking.
No, no... Wait. Let's see what we can do...
So when that was all done, we went to see the guy who tries to sell you all kinds of extras you don't need has you sign the paperwork. Since the car is still pretty new, it's still under warranty. What more could we need? According to this guy, we needed an extended warranty to cover the electrical stuff. Hey, it's only $8 more a month - we'd be crazy not to buy it. Call us crazy. He must have told us at least half a dozen times that he couldn't believe that we weren't going to get the extra coverage. He went on to tell us that he sees electrical problems come up on cars all the time - you know, it kills the power windows and the power door locks. Hmmm... If this car is going to start having all these problems, maybe we shouldn't buy it...
No, no... Wait...
So only 5 hours later, we had a car, a migraine, a starving child, and an irrational desire to bang our heads against a wall.