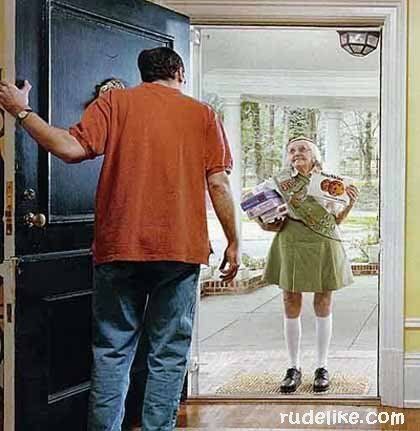 I am up to my ears in Girl Scout Cookie stuff right now. Not only am I co-leading the troop, I'm the cookie manager. Am I crazy or something? They've got this lovely computer system that the orders have to be entered into, but first you have to log in and go through two hours of modules to teach you how to use the system. I found it rather amusing that the first module was all about opening an account, getting a password and how to log on. Um, we had to do all that stuff to get to the module? Nuts, I tell you.
Anyway, I'm pooped. I'm going to go to bed now so I can have dreams of Thin Mints dancing in my head.
Oh, and one last thing. No one even tried to guess the answer to my joke a couple of days ago, yet MoonGoddess thinks I should still finish what I started. So for those who missed it: What's the last thing to go through a bug's mind when it hits a windshield?
It's butt.
:o)