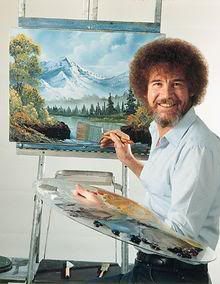 The PTA in our school district sponsors an art program since the regular school budget has no room for art. So four times a year, parent volunteers go to a class to learn a project that we will then go teach to our child's class. In case you haven't guessed, I'm the parent volunteer for my daughter's class. I get to teach a classroom of first graders about Impressionism.
Impressionism? For first graders? Isn't their art already impressionistic?
Anyway, we all got to sit through an hour and a half of learning about art history (zzzz...) before we finally got to paint. Unfortunately, that meant that we only had half an hour to do our impression of a Monet painting that was being projected on a big screen.
Half an hour?! I cannot work under these conditions! I am an arteest!
Of course, I wasn't able to complete my painting to my satisfaction. (I am not obsessive!) As I looked around the room after our time was up, I saw that no one really seemed finished. At least, the lack of time is what we'll be blaming our finished product on...